Homes for Sale in The Moorings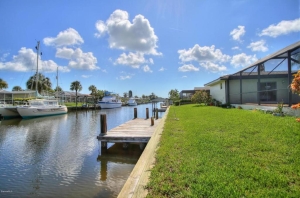 The Moorings is a charming waterfront community located in North Satellite Beach offering direct access to the intracoastal and the oceans beyond. Homes for sale here are priced from the low $400's and can exceed $750,000. Characterized by palm-studded streets and deep-water canals, most homes here were built in the mid 1960's and feature private docks, swimming pools and at least 1600 Living SqFt each. Here, residents need not travel to the beach by car; they can walk or ride a bike!
Located less than a mile from the south gate of Patrick Air Force Base (PAFB) and the Pineda Causeway, The Moorings is one of the first waterfront options one will find crossing from the mainland. It is also one of the most affordable waterfront neighborhoods in Satellite Beach offering direct access to the intracoastal. Residents are predominantly boaters or water enthusiasts. Living on a deepwater canal offers daily, firsthand encounters with wildlife like dolphins, manatees and osprey. When they're not on the water, residents enjoy countless activities, attractions, shopping and fine dining at a number of local hotspots.
See below for a complete list of homes for sale in the Moorings:
Your search did not return any results. Please try to broaden your search criteria or feel free to try again later.